To Provide The Highest Quality
Spanish Sweet Onions.
Family owned and family grown, Snake River Produce (SRP) is located in Nyssa, Oregon in the heart of the Idaho-Eastern Oregon onion region. Snake River Produce selects the finest onions that are grown in the fertile Snake River Valley, which is well known for its delicious, sweet Spanish onions. Sweet Spanish onions are zesty and full of flavor when raw, but once cooked they become mellow and savory. Snake River Produce onions are available in yellow, white, and red varieties as well as an assortment of sizes and packaging and onions are typically available from August through April.
Established in 1999, Snake River Produce was formerly owned and operated by four onion growers, Reid Saito, Ken Teramura, Les Ito, and Ross Nishihara which lead to Kay Riley from Muir-Roberts to run and manage the newly established company. Then, over time, Pat Takasugi, a local onion grower and Idaho State Representative, became part of the business in 2003 as a part owner and grower. Ten years passed, and through time, in 2013, Snake River Produce welcomed new partners Brian Kameshige and Randy Kameshige, who took over for Ken Teramura. Kevin Corn and Chris Payne joined the partnership in 2015. Through the course of time, growers and partners Kevin Corn and Chris Payne purchased shares from the previous partners, allowing full ownership in 2022. Joshua "Josh" Frederick also joined with the purchase to come run and manage Snake River Produce, which led to the retirement of Kay Riley.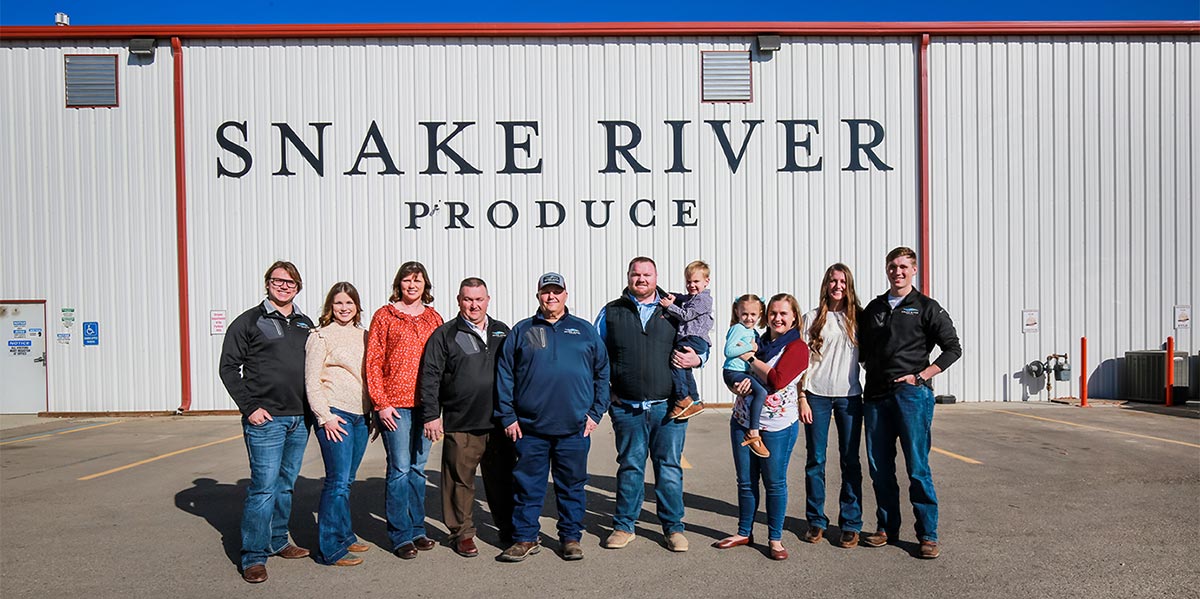 General Manager and Staff:
Joshua "Josh" Frederick comes from the great state of Texas after working for The Mike Benben Company from 1996-2018. In 2018, Joshua left his roots in Texas and moved to Rexburg, Idaho where he joined the Floyd Wilcox and Son (Wilcox Fresh) team. He continued working in the produce industry, marketing potatoes, onions, and mixed vegetables for the company until the purchase of SRP brought Joshua over to the Treasure Valley.
Kyle Erstrom has been with SRP for over 5 years. Within SRP, he serves as the Assistant General Manager and in grower relations. Kyle and his wife Sarah, along with their boys Kayden, age 10, and Jaxson, age 7, welcomed a baby boy and brother to join the family this August. The Erstrom family makes their home in Willow Creek.
Warehouse Manager, Melecio "Gordo" Lopez, Jr, has been with SRP for almost 20 years. Gordo handles packing and shipping our onions out as well as daily communication with the sales team on production and orders for the week. Gordo and his wife Marisela, who has also been with SRP for 11 years, have 4 kids that attend schools in the Caldwell School District. They are Annaliese, age 18, who graduated this summer, Xavier, age 16, Eli, age 15, and Silas, age 6.
Courtney Rueth joined the SRP team in 2022 and is SRP'S office manager and sales assistant. Courtney earned her bachelor's degree from Boise State in Business Administration. Courtney grew up in Parma, Idaho. Her hobbies and passions are bowling, hunting, fishing, being outdoors, and horseback riding in the mountains.
Brenda Trujillo has been at SRP for a year. Brenda handles all payroll. Brenda is bilingual and works daily with our employees and staff, handling HR and Food Safety as well as organizing and scheduling the monthly safety meetings. Brenda is currently working on her new home and lives here in Nyssa.
Tawni Maxwell handles the finance duties including payroll, accounting, and bookkeeping for SRP.  Tawni is a local gal who serves as the president of the Nyssa Chamber of Commerce and Agriculture. Tawni owns Simpli Balanced Bookkeeping and Cleaneat.
Owners:
Chris and Darci Payne were raised in Vale, Oregon and both grew up in agricultural families.  They decided that they wanted to raise their family on the farm, so Chris bought his first baler in 2008 and started custom hay and straw baling.  Two years later, in 2010, they rented their first acreage to farm in Ontario, Oregon and started growing alfalfa, sugar beets, corn, and wheat. In 2015, onions were added to the crop rotation and that opened an opportunity to bring onions to Snake River Produce, leading to buying into the partnership at Snake River Produce.
Chris & Darci have 3 children, Boston, Brock, and Brogan.  Life outside the farm includes following the kids' various activities, such as track, softball, and FFA. When time allows, they enjoy spending time in the mountains, riding side by side razors and snowmobiles. Chris and Darci own 3B Hay and Farms and they currently have around 12 full-time employees.
Kevin & Elizabeth Corn close out the ownership of Snake River Produce. Kevin was born and raised in Ontario, Oregon, growing up on the family farm. Kevin graduated after attending Utah State, earning an Ag business degree. He came back home to start farming and growing onions in 2012. In 2015, they purchased 20% of SRP which over time lead to the partnership they have today. Kevin married Elizabeth in 2016 and together they have 2 children, Embree and Marcus.  The Corn family lives at Cairo Junction and farms land from Nyssa to Ontario as well as Vale. Kevin owns Imperial Ag and they employee 9 full-time employees. Today, the Corn family farms a few hundred acres of onions, wheat, sugar beets, corn, and alfalfa.
We hope that families everywhere will always know that Snake River Produce has their best interest and safety in mind.  We want to feed your families with fresh grown produce that is safe and healthy. At Snake River Produce, we will continue our legacy of providing quality food from our farms to your table. Without the hard work and dedication from our employees on our farms, to production and warehouse, none of this would even be possible and we say Thank You to each and every person that represents SRP.
Snake River Produce is an active member of the National Onion Association, Idaho-Eastern Oregon Onion Committee, Idaho-Oregon Fruit & Vegetable Association, and Certified Onions.
You can find Snake River Produce at www.snakeriverproduce.com and also follow them on Facebook and Instagram. Additionally, you may contact via phone at 541-372-2600 or via email at sales@snakeriverproduce.com
Check Out This Month's Company Newsletter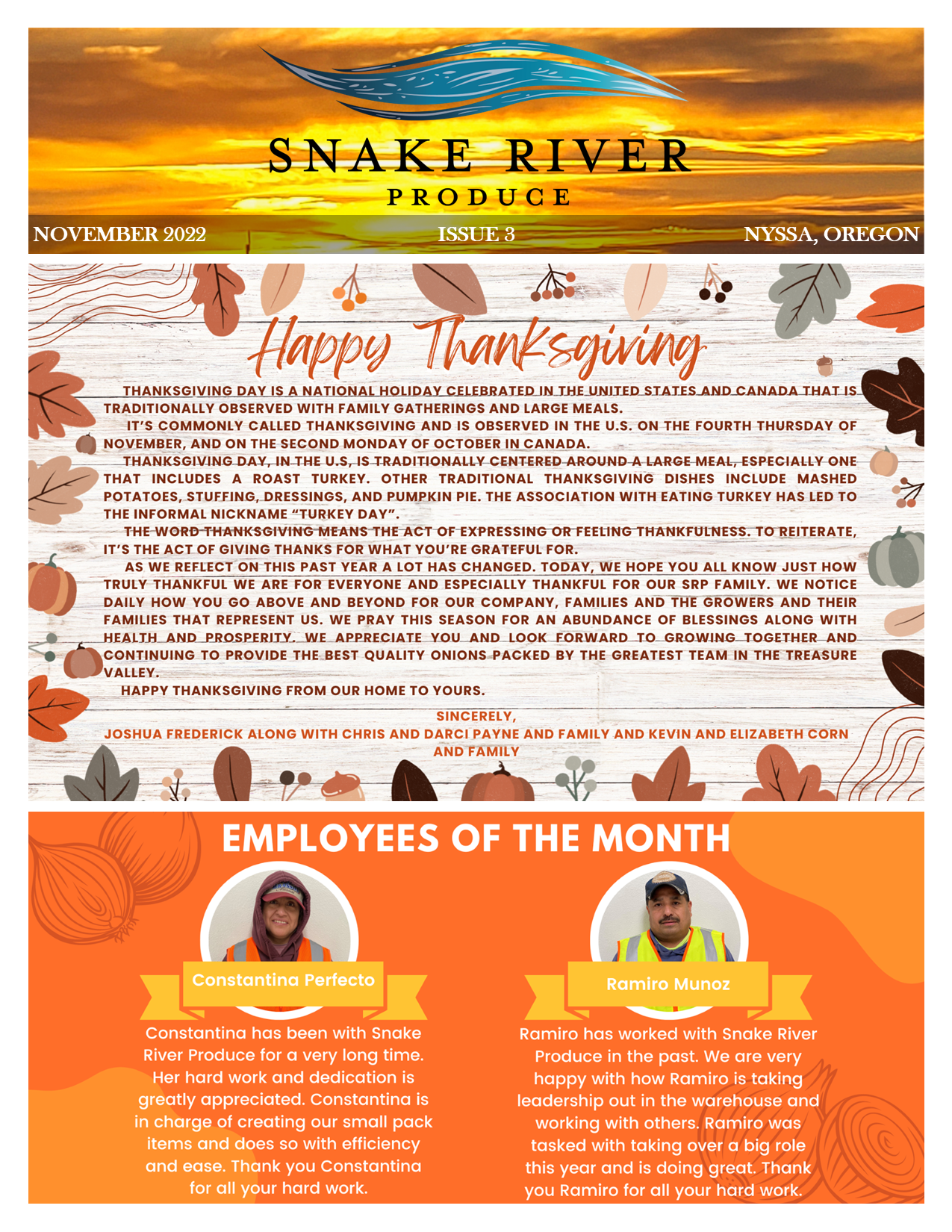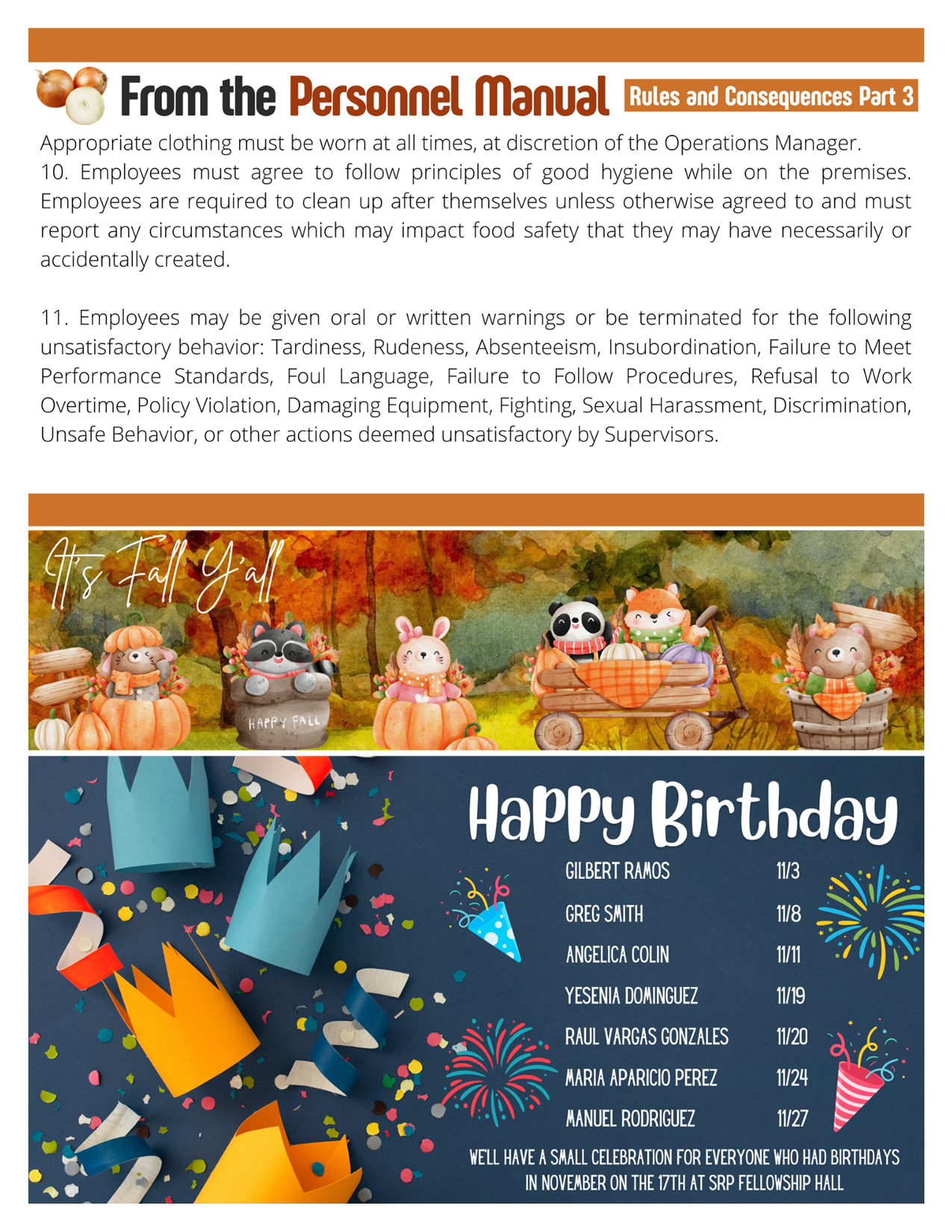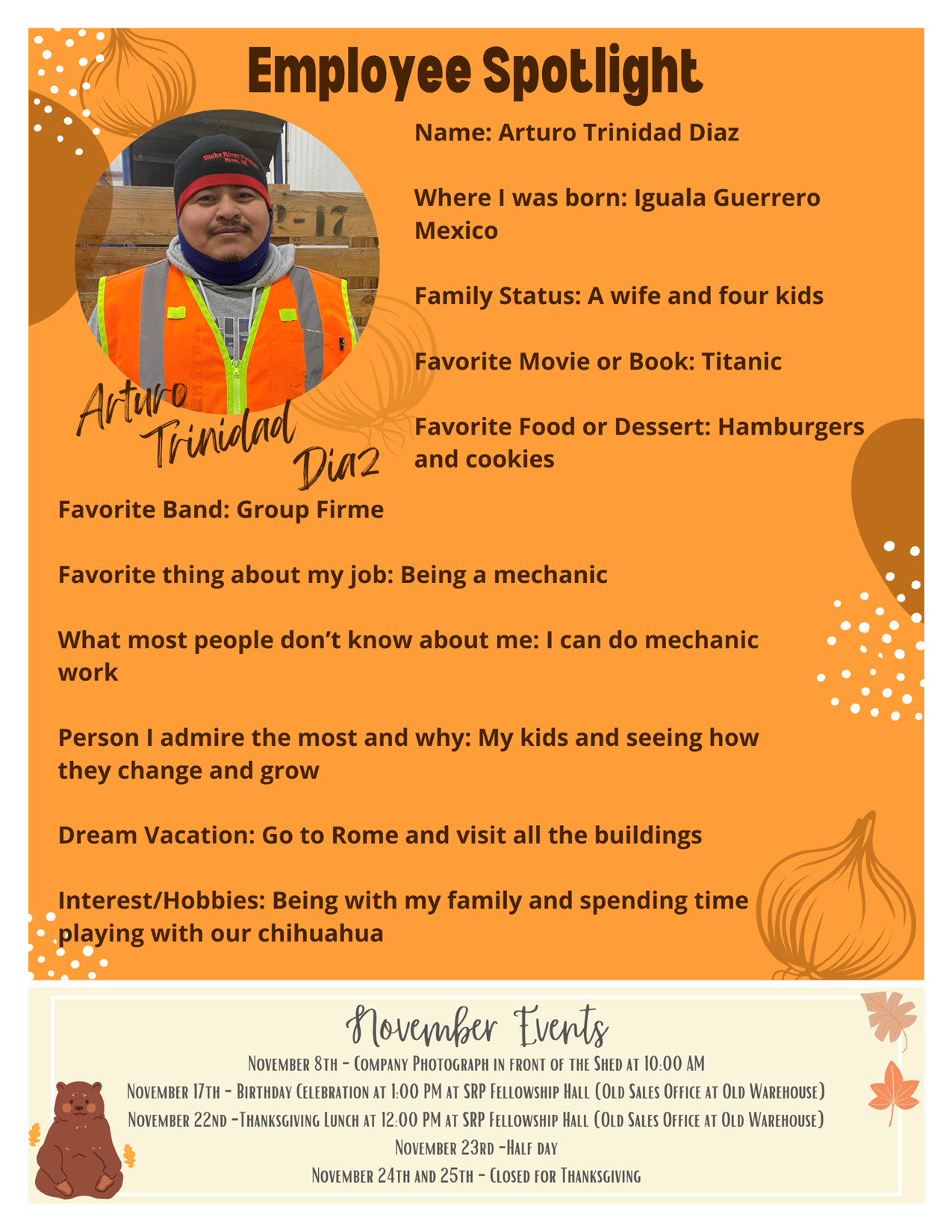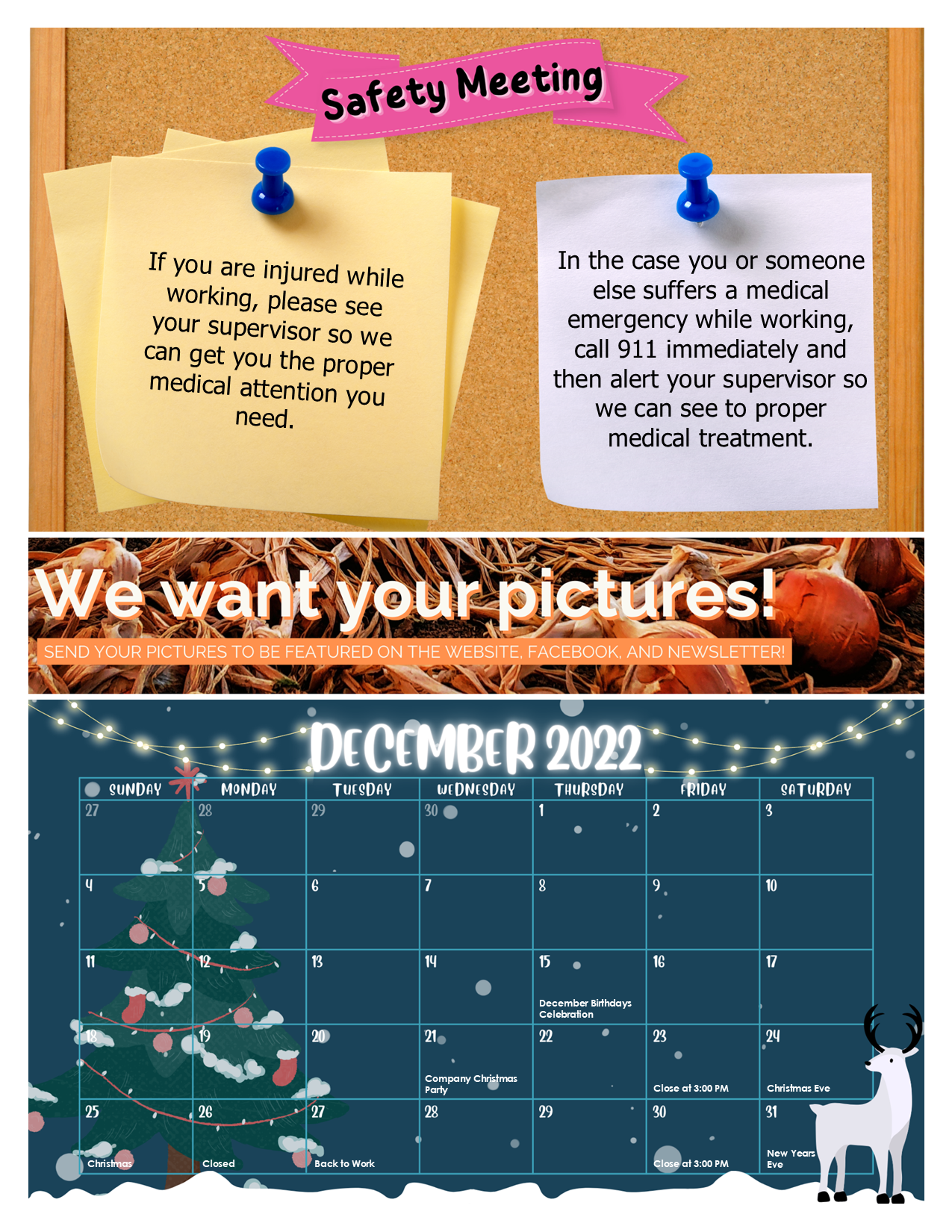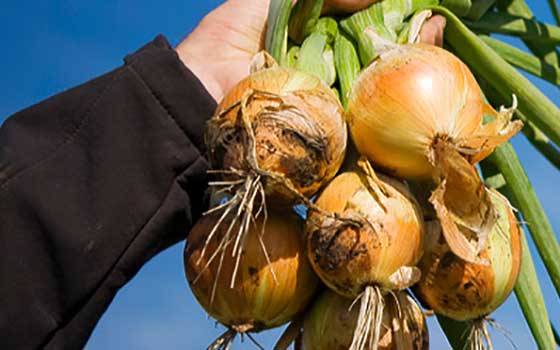 Grown With Love on Our Farms
Snake River Produce Company, LLC specializes in providing Spanish Sweet onions of superior quality in a variety of packaging and sizes. Located in Nyssa, Oregon Snake River Produce ships red, white, and yellow onions from August until April.
Snake River Produce Company
Snake River Produce Company is a leading shipper and marketer of onions in the Idaho-Eastern Oregon Onion growing region. Please contact Joshua Frederick for all your onion needs!